YOUR LOCAL DECK & PATIO SPECIALISTS
Whether your home already has a patio area or decking in place, or if you're starting from scratch, we can solve all your decking needs quickly. From new deck projects to repair and maintenance services, we offer it all with competitive pricing.
From new construction projects to replacing old, worn out items, we leave you loving your new space every time.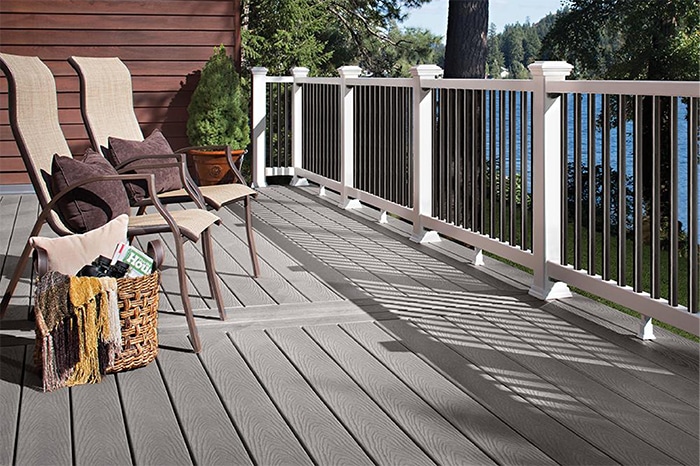 THE PREMIER DECK & PATIO INSTALLER
OUR DECK & PATIO SERVICES INCLUDE:
Trex Decking Installation
Finished Wood & Hardwood Lumber Decks
Custom Decking Design & Installation
New Deck Building & Re-Building
Custom Patio & Patio Cover Design & Installation
Deck & Patio Maintenance & Repair Services
Custom Railing Installation
TREX DECKING PRODUCTS AND INSTALLATION
DEFINE THE SPACE AROUND YOUR HOME WITH PERFECTION BY DESIGN
Trex Decking is at the intersection of beauty, design, and function when it comes to your deck and patio Portland area. Trex is outdoor living re-imagined!
ALL TREX PRODUCTS ARE EARTH FRIENDLY.
TREX DECKING IS MADE FROM 95% RECYCLED MATERIAL. TREX STEEL FRAMING COMPONENTS ARE MADE FROM A MINIMUM OF 25% RECYCLED STEEL AND 100% RENEWABLE.
WE ARE A PROUDLY CERTIFIED TREX PRO PLATINUM CONTRACTOR
PREMIUM DECKING PACKAGES
CATERED & DESIGNED TO FIT YOUR SPECIFIC NEEDS
START YOUR DECKING PROJECT TODAY!